Growing balanced young men in an environment underpinned by academic excellence.
With a proud history dating back 140 years, St Joseph's College is an independent catholic boys' school based in Hunters Hill in Sydney. Joeys, as it's affectionally known, offers an exceptional all-round education to over 1,100 boys from Years 7 to 12.
Traditionally a full boarding school, today 50 per cent of Joeys' boys remain boarders. The school day runs from 8.00am to 5.00pm, or 8.00pm and the day boys join in mealtimes, after school sporting and extra curricular activities, and are included in the evening's structured study support.
The education at Joeys is steeped in academic excellence, community and faith – shaping boys into confident, resilient and caring young men who will make a positive impact both here in Australia, and on the world-stage.
Think you know Joeys? Take another look.
Whilst Joeys may be best known for its success on the rugby field, the school boasts outstanding academic results and a wonderfully rich curriculum with accelerant programs in Mathematics, Business Studies and Religion.
For boys beginning in Year 7, Joeys offers an academic transition program, STRIVE, which arms them with the tools they'll need to succeed in their secondary school years. STRIVE teaches time management, organisational and study skills as well as what it means to be a good learner.
At Joeys, you'll also discover outstanding educational opportunities across Creative and Visual Arts, Drama and Music. The Joeys extra curricular program has evolved to include robotics, coding, chess club and much more. And, this year Joeys were crowned champions in the GPS debating competition, achieving number one and two placements.
A Joeys boy is balanced, well-rounded and enjoys a holistic education in an environment where he can thrive in every area of his life.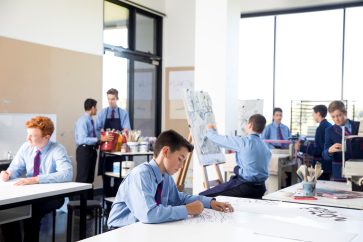 Become part of the Joeys family in 2024 with a full scholarship.
Joeys offers a diverse range of scholarships to give talented and gifted boys the opportunity to experience the Joeys difference. From its long standing 'Boys from the Bush' bursaries aimed at supporting and maintaining its traditional non-metropolitan cohort, to all-rounder, academic and music scholarships.
Joeys also offers specific Mathematics and English scholarships to boys who show exceptional aptitude in these subjects. And, this year for the first time the Br Liguori Mathematics Scholarship and the Br Michael Naughtin English Scholarship are being offered to boys beginning Year 7 in 2024.
Offering full remission of boarding or day fees, these scholarships represent an incredible opportunity to become a part of the Joeys family – right from the beginning of your child's secondary school years. An all-round academic scholarship is also being offered for the first time for boys starting in Year 7 in 2024.
At Joeys you'll discover an educational journey that is about much more than just exceptional academic results. Whilst our boys are empowered to strive and stretch themselves academically, we believe in the importance of nurturing the whole boy. From outstanding sporting opportunities, to a rich arts, culture and music curriculum and a continuously evolving extra curricular offering driven by the boys' interests, Joeys is far more than a school – it's a way of life.
Find out more about our scholarships and bursaries or arrange a College tour – call us on 02 9816 0900 or email admissions@joeys.org