Year 11 Meriden student, Jacinta Rees, has won a silver medal for Australia at the 2022 International Earth Science Olympiad.
This is the second time Jacinta has represented her country on the world stage after receiving a silver medal as part of Australia's inaugural International Junior Science Olympiad Team in 2021.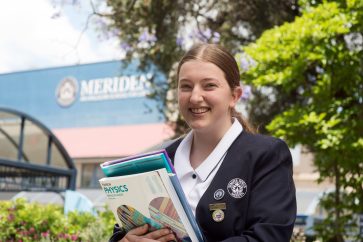 This year, the UNESCO-sanctioned Olympiads, also known as the Olympics Games for science students, was hosted by Italy. Students competed remotely from around the world, completing the highly-challenging theoretical and group examinations over a week-long period.
The prestigious international competition tests participants' knowledge and skills in all major areas of Earth Sciences, including geology, geophysics, meteorology, oceanography, terrestrial astronomy and environmental science.
After a rigorous year-long selection process that saw over a thousand students from across the country participate, Jacinta was selected as one of eight members of the team. Team Australia competed against the brightest minds of their age group from over thirty-seven countries to claim eight medals: four gold, three silver and one bronze.
Jacinta said she was honoured to have been selected to the team and enjoyed the experience of connecting with like-minded science students.
"What fascinates me most about science is that it's a continuous learning process. Science is never finished. We keep building upon our understanding, questioning our assumptions and our own biases. It's this process that appeals to me so much," she said.
Jacinta is hoping to undertake a career in biomedical engineering following her HSC exams and said participating in the Olympiads has motivated her to achieve her dreams.
"I am finding inspiration from women in science who have paved the way for success in their respective fields. They have shown me that women can have a career in science; it's not just a dream," she said.