The life of a professional tennis player and that of an aerospace engineer may seem worlds apart, but Madeleine Whip has decided she's going to pursue both. The Meriden alumna, Class of 2020, is realising her dreams through a combined academic and sporting scholarship at Lake Superior State University in Sault Sainte Marie, Michigan, USA.
An accomplished tennis player, Madeleine was a member of Meriden's Olympus Program for elite athletes. To date, she has competed in a number of International Tennis Federation tournaments in Australia and overseas. She was the number one Singles seed in the 2020 Tildesley Shield Tennis Tournament and won the Doubles in 2019. Madeleine has joined LSSU's Lakers Women's Tennis Team, entering the highly-competitive world of NCAA sport. Madeleine said she is delighted to have joined a squad which is known for its spirit and sportsmanship.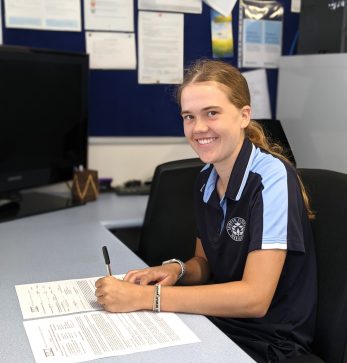 Above: Madeleine Whip
While a semi-pro sporting career requires an extraordinary level of energy, Madeleine has plenty of passion to spare, particularly with regard to the dual degree she is undertaking, a Bachelor of Science, Mechanical Engineering/Bachelor of Science, Robotics Engineering.
"LSSU is one of only two public universities in Michigan to offer robotics engineering," Madeleine said.
"Along with the enticement of 'hands-on' learning, LSSU has a two-million-dollar robotics and automation lab and offers students the opportunity to participate in amazing robotics competitions."
Madeleine excelled in all areas of STEM at Meriden, collecting various prizes from the Science Teachers' Association, CREST and the Rio Tinto Big Science Competition, among others. She was awarded first place in the NextGen Robotics Competition in 2018.
Madeleine said she has always been fascinated by engineering.
"While science entices with experimentation and ideas, materials and designs, engineering is an arm of science that transforms imagination into invention and possibility," she said.
"I'm passionate about space exploration, in particular, because habitation on other planets is the next step in transforming impossibility to possibility."
"I have been inspired by the likes of Elon Musk and Abigail Allwood, who is the first woman and the first Australian to lead a scientific team on a NASA mission to Mars. She invented the PIXL, an x-ray tool used to analyse rocks to reveal the past presence of microbes. The PIXL is now mounted on the robotic arm of Perseverance (the Mars rover) to probe for evidence of past life on the Martian surface," Madeleine said.
Madeleine relocated to the USA in August 2021. She is thriving both in class and on the tennis court. Meriden's Olympus Program and its post-school pathways program, Olympus Futures, has supported many hardworking young athletes like Madeleine pursue their goals at the world's best universities.