Boarding has been integral to Loreto Normanhurst's identity since it was founded in 1897. Indeed, the boarding school sits right in the middle of the campus. "It's part of the whole fabric of the school," says Mrs Kate Kovacs, the school's Director of Boarding. "We're here 24 hours a day, seven days a week."
Around 85 per cent of Loreto Normanhurst boarders come from regional and rural Australia. "Many parents from regional towns choose Loreto Normanhurst for their daughters because they are looking for more subject options," says Mrs Kovacs. "They're also looking at the opportunity for a wide variety of extra-curricular options, and because Loreto Normanhurst is a bigger school, you've got a much bigger choice. For these students, moving to Sydney is also a cultural experience and a dedicated Years 7 and 8 recreation program encourages their confidence in navigating the city."
Sarah Ciesiolka from Wee Waa, NSW, says their family values are aligned with the core values of Loreto Normanhurst, which ultimately led them to selecting the school for their daughters' secondary education.
"We were seeking to educate our daughters at a school that promoted independent learning and critical inquiry, with a strong sense of faith at its core.  We especially valued the way that Loreto Normanhurst nurtured and attended to the wellbeing of each student and their specific needs.  Not only does Loreto Normanhurst boast impressive academic results, it also provides a myriad of extra-curricular opportunities, enabling each student to reach their true potential as wholesome and balanced young women.  Furthermore, the values and philosophy upon which Loreto Normanhurst is built encourages young women to become compassionate, socially responsible global citizens who are willing to act for change and make a meaningful contribution."
Year 12 boarder, Lara Ciesiolka, affirms her family's decision for her to board at Loreto. "I love being a part of a community where the support and care each of the boarders have for one another creates a homely and tight-knit environment, one where I feel comfortable to reach my full potential and be who I am. Boarding at Loreto has also afforded me the chance to participate in numerous extra-curricular opportunities including sport, music and academic extension that I would not have had access to in my small rural community in western NSW."
The introduction of Loreto Normanhurst's flexible boarding model in 2018 has made it possible for Sydney-based boarders to also benefit from the boarding experience. This means students have the option to stay at the school a minimum of five days but have the choice of whether to stay over the weekend, which can help with sport on Saturday that is compulsory. "It takes a lot of pressure off the parents," says Mrs Kovacs. "For girls who move to flexible boarding, they were doing 7am to 9pm as day girls. For some, it's more than an hour on the train to get home. Our school is not just open 8:30am to 3pm, we offer extra-curricular programs outside those hours that the girls want to be part of."
Year 11 boarder, Emily Stockwell, agrees and says as a boarder from Sydney, she experiences the best of both worlds. "There is no daily travel time to and from school, the school facilities are easily accessible, my routine is extremely beneficial, and I can easily attend my dance classes and meetings for extra-curricular programs like Future Problem Solving. It's also lovely to go home on the weekend and see some friends or just spend the weekend with my family."
Boarding Scholarships/Bursaries for 2021 and 2022
Loreto Normanhurst is committed to providing an excellent holistic education for girls in regional, rural and remote areas. Boarding Scholarships/Bursaries for girls in Years 7-10 2021 and 2022 are now available. Applications for 2021 close 30 October 2020. Apply via our website at www.loretonh.nsw.edu.au
Find out about Loreto Normanhurst scholarship options here 
Tour the school
Join us for a live and exclusive online Principal's Welcome Tour: 26 October and 23 November 2020. Visit our website to register and for more information: www.loretonh.nsw.edu.au
Contact the Enrolments Team at enquiries@loretonh.nsw.edu.au or on (02) 9473 7300.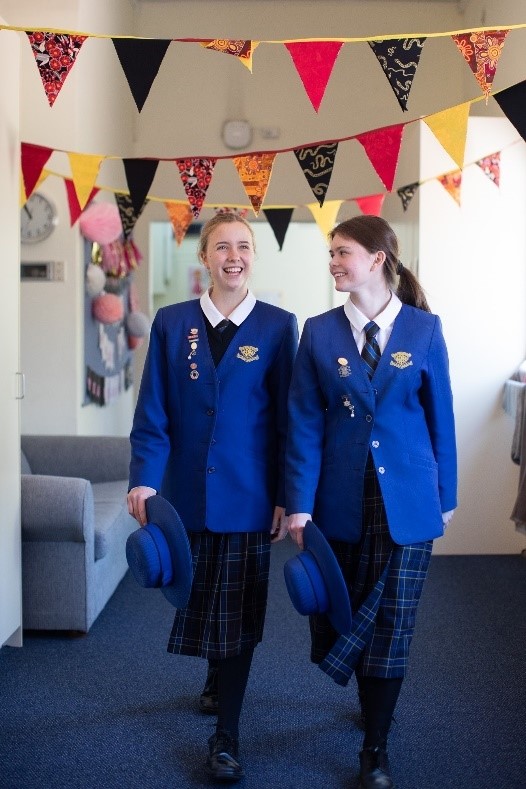 Sydney boarder, Emily, and country boarder, Lara, are both fully involved in the opportunities Loreto Normanhurst offers.